This Giveaway is now closed. We will be announcing the winner on Friday, September 30th. Thank you to everyone who entered, and to Sarah for sharing her work with us!
xo
J&A
It's been a while since we've done a giveaway here on Miskabelly, but it seemed like a good time to change that. We sell on Etsy to make money (to hopefully, one day, make a living!), but there are some shop that make things in order to support other creative endeavors. Enter my friend Sarah Council and her shop, Crafty Dancer.
Sarah runs her own dance company in New York ( no small feat), but even more amazing is that she's about to become a mom! The profits from the shop help to fund her dance projects. I want to share a little more about Sarah and her project here. Sarah's work is also near and dear to Jayme and I as girls who grew up in dance classes and who have a passion for art (and for women who are living their dreams!).
Sarah, hard at work.
How did CraftyDancer start?
I am a
choreographer living in New York City and lifelong Craftster. I am most at home sitting right in the middle of the creative process. As I was looking for ways to support my dance company Sarah Council Dance Projects, CraftyDancer was conceived. What better way to raise funds for my dance projects than sharing and selling my crafty projects.
Who makes the crafts in the shop?
I make most of the crafts in the shop with an occasional Craftydancer guest artist.
Are you involved in any other arts besides dance? Crafting, etc?
I am
addicted to color and line, my creations range from original paintings and one-of-a-kind wearable art, to paper crafts. I would love to learn to sew but beyond the occasional dance costume alteration I really haven't had much success. Maybe that's my next project!
Are there other ways to support Sarah Council Dance Projects?
Sure!! Along with visiting our Craftydancer Etsy shop, take a peek at our some of our latest dance projects at

on our website.

You can check out pictures, videos and help keep us dancing by giving a tax-deductible donation here.
Images from Sarah Council Dance Project performance of Shadowlands
Do you have any favorite Etsy shops (besides your own!)
I love the bags and fun graphic fabrics at fromnancy.
The abstract wood sculpture art from paintsquare is so interesting. I especially enjoy the lines and texture.
The illustrations at mamarobot are so fun! As an expectant mom I've been eyeing the robot baby onesie made of soft organic cotton.
What's your favorite item/bestseller in the shop?
I really love the newest miniature painting pendants just recently added to the shop. I worked with some different shapes and sizes and added lots of bright colors!
Sarah is giving away one of her beautiful miniature painting pendants from the Craftydancer shop to one lucky reader.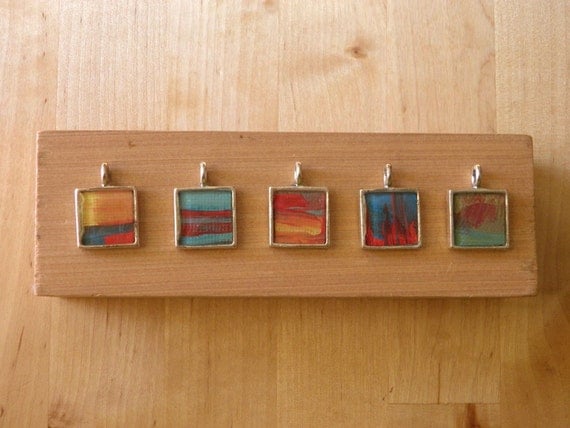 About the pendant:

This pendant is an original miniature abstract painting on canvas set in a 5/8 inch square tray and preserved in resin. Hang it on your favorite chain, cord or bit of ribbon and you'll have a beautiful one-of-a-kind necklace, an original work of art and a wonderful conversation piece. Pendant tray is silver plated, with a base metal of pewter and is antiqued, oxidized and lead free.
Mandatory Entry
1. Become a follower of our blog...and leave us a comment to let us know! (If you're already a follower, keep reading for other additional entry opportunities).
3. Follow @miskabelly on Twitter (if you don't already)...and leave a comment. :)
4. Tweet/Retweet this giveaway...and again, let us know you did in the comments!
This giveaway is open to everyone and will end Wednesday, September 28th. Good luck!