If you've read our blogs and tweets this weekend, you probably know I was visiting Jayme in Pennsylvania so I didn't have much time to plan, cook and take photos of a meal yesterday! But it's still Monday, and it's still meatless. I thought I'd share with you four quick, easy, and delicious meals that are easily vegan and are perfect for big family dinners. These are also four of my favorites when I'm feeling less than creative around dinnertime!
1. Spaghetti with Marinara with a Summer Salad
This is an easy and adaptable meal! Use canned marinara or make your own. Pile the fruits and veggies (and nuts or seeds!) into the salad bowl with your favorite greens and top with a vegan (usually vinegar-based) dressing.
2. Black Bean and Rice Burritos with Guacamole
It doesn't get much yummier than a burrito bar! You can use canned black beans (though they'll be pretty bland) or make your own mix with onions and seasoning. Add rice (season it with lime, cilantro and salt!), salsa, lettuce, tomato, and of course, a healthy dollop of guac. Be sure to check your tortilla label to make sure it's vegan--most of them are, but you never know. I recomend the Habanero Lime tortillas from Trader Joe's for an extra little kick. Blue corn chips make a crunchy, easy side for dipping!
3. Pita Bread with Hummus and Mixed Olives
If you're looking for a light, delicious meal, take some inspiration from the Mediterranean. Make (or buy) your favorite hummus and pita bread for dipping (again, be sure to check the ingredients--no milk or eggs, vegans for a day!). A bowl of mixed olives is perfect--dip them in hummus, put them on top of the bread, or simply pop them in your mouth (just make sure you don't swallow a pit!)
4. Veggie Burgers and Oven Fries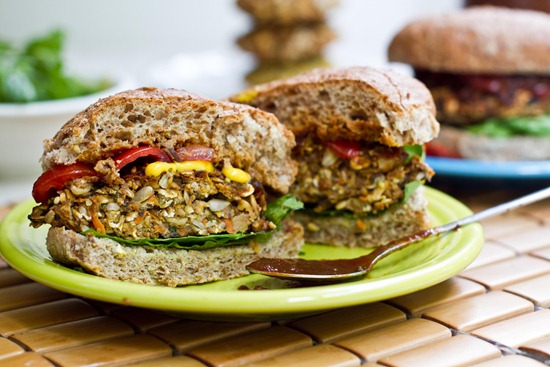 Veggie burgers can be easy to make, but there are definitely some yummy pre-packaged ones out there (I'm a fan of Amy's Texas Burgers myself). Of course, some of them can contain eggs, so be sure to read the label! Pile a bun with a burger and your favorite vegan fixings--BBQ sauce, avocado, lettuce, sprouts and tomato are some of my faves. Bake a quick batch of oven fries on the side. SO easy and yummy!
What's for dinner tonight? I still don't know since I have to hit up the grocery store in a bit, but these options are certainly tempting...
Bon Appetit,
Amanda